Safety, Quality, Security
Integrated Management System
Malta Air Traffic Services Ltd. (MATS), the designated Air Navigation Service Provider responsible for the Malta Flight Information Region, is fully committed to provide a safe, secure, high quality and efficient service in accordance with international regulations.
MATS considers Safety, Quality and Security as its overriding responsibilities and consequently they are accorded the highest priority notwithstanding any commercial, financial, operational and social pressures and constraints.
MATS continuously seeks improvement of its services, processes and systems through an Integrated Management System which meets the requirements of the International Standard ISO 9001: 2015 and all relevant national and international obligations pertaining to Air Navigation Services Providers. This is also being achieved through the involvement of employees at all levels of the organisation.
To ensure the expected levels of Safety, Quality and Security in the service provided all employees:
abide to procedures and regulations ensuring that the Safety, Quality and Security levels are maintained

are adequately trained as necessary to retain competence in their area of expertise

report occurrences, hazards or any matter/situation which may impair Safety, and/or Quality and/or Security, MATS applies a full Just Culture Policy,

are encouraged to forward suggestions and recommendations to improve the Safety, Quality and Security levels of the service offered.
This Management System plans to meet the objectives of air traffic service and provide customers with the assurance that the services offered comply with the aeronautical requirements.  
MATS are implementing this Management System (MS) which meets the requirements of the International Standard ISO 9001: 2015, ICAO SARPS, Single European Sky (SES) Common Requirements (CR) EC Regulation No 1035/2011 and all other SES regulations and ICAO SARPS related to Air Navigation Service Provision, that come into force from time to time.
The scope of the MATS IMS is "providers of air traffic services to commercial, cargo and military aircraft, including air traffic management and communication, navigation, surveillance and aeronautical information services for aircraft flying in the Malta flight information region"
MATS also ensure that it meets "the ATM requirements of all airspace users whether civil or military within the airspace of the Malta FIR in a safe and efficient manner based on international standards, laws and regulations".
This document, the Management Systems Manual, describes how MATS applies these guidelines in the day-to-day operation to ensure that objectives in terms of Quality, Safety and Security including customer satisfaction is achieved and continuous improvement takes place.
The integration of a Safety Management System (SMS), a Quality Management System (QMS) and a Security Management (SecMS)
"Safety is the top priority in aviation. The main purpose of Air Traffic Management (ATM) services is to ensure the safe separation of aircraft in the air and on the ground, while maintaining safe, efficient, secure and cost effective operational conditions".
MATS has already shown its commitment to Quality, Safety and Security by adhering to the requirements set down by the EU common requirements, ICAO and ISO 9001-2015 and consequently adopted an explicit and proactive approach to the management of Quality, Safety and Security by adopting an integrated approach to manage these Management System.
The management systems being integrated are the following:
The Safety Management System
The SMS is concerned with the ATM system (ground component) as a whole; equipment, procedures and people.  The human resources have been integrated in all the functions of the SMS. Within the SMS all occurrences are documented, reported, investigated and stored in accordance with the organisation policy.
The SMS is intended to help MATS in guaranteeing the provision of safe services and serves as an assurance to external authorities that MATS has developed and implemented a Safety Management System that is compliant with national and international requirements.
The SMS mainly applies to the Operations, Flight Data Support Unit/ Aim Training and Technical Section; however, nothing precludes the application of SMS procedures and techniques to other sections of the company.
Reference Documents:
ESARR 3: Use of Safety Management Systems by ATM Service Providers

EC regulation directly applicable to Air Navigation Service Provision EC Reg.1035/2011

The Quality Management System  
ISO 9001:2015 provides MATS with a useful tool to support the implementation of SES EU Regulations related to ANSPs mainly Reg. EC 1035/2011 requirements and to ensure customer satisfaction.
ATM security is concerned with those threats that are aimed at the ATM System directly, such as attacks on ATM assets, or where ATM plays a key role and consequently limiting their effect on the overall ATM network. ATM Security is a subset of Aviation Security which is itself a component of Transport Security. ATM assets are to be protected against the following:
Service Degradation

Physical Attack (e.g. terrorist and criminal)

Insider ill doing

Cyber-attack on information or data processing (

e.g.

hacking or malware)

Electromagnetic attack (e.g. interference, with the CNS services)
The security function also forms part of the collaborative support to the security of the airspace. In the Air Navigation Service industry, Safety, Quality and Security are intrinsically related. Consequently, an Integration Approach has been taken by MATS – common subjects between the QMS, SMS and the SecMS are being implemented in a shared manner whilst specific requirements which have been identified in relation to the ISO, SMS or SecMS provisions have also been taken.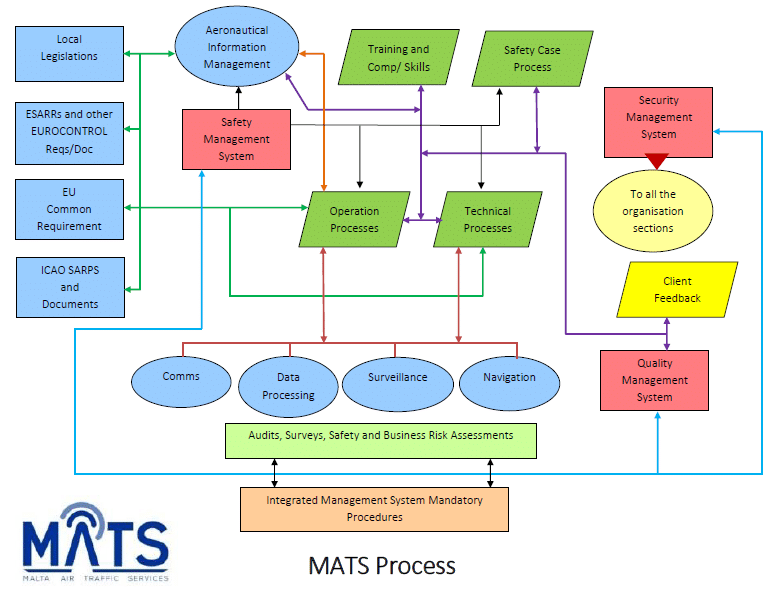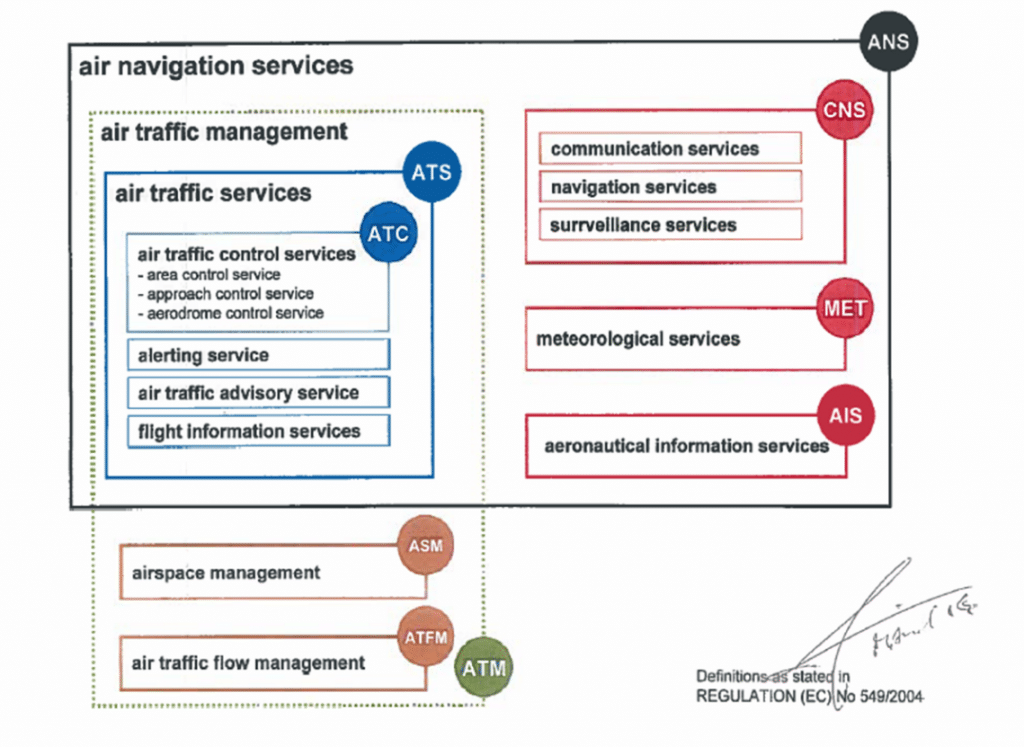 Figure 1: Single European Sky Structure
Figure 2: The structure of the ISO 9001:2015 PDCA cycle
Information relating to the Freedom of Information Act (Cap. 496), Article 17(1) http://www.justiceservices.gov.mt/DownloadDocument.aspx?app=lom&itemid=8962&l=1
The Freedom of Information Act (Cap. 496) gives the public the right to request documents or information from Public Authorities. The Act also lists exemptions from this right as well as placing a number of obligations on Public Authorities. In fulfilling its statutory obligations, Malta Air Traffic Services (the Authority) is providing the following information which can be used as guidance to better inform the public about its work and functions. Requests for information may be charged. The charges applied will be those prescribed in Legal Notice 158 of 2010. If or when the Legal notice is updated or changed the fees charged will always reflect the Legal Notice in force at the time of the request.
Category of Documents and Manuals held by MATS:
General Administrative Documents and Policies
Human Resources Documents and Policies
Operations documents
Technical documents
SQS section documents
Aeronautical Information Management section documents
Corporate Training Documents
Annual Reports
Minutes of Meetings
Occupational Health and Safety (OHS) policy
MATS Integrated Management System Manual
Integrated Management System Policy
ICAO/ EUROCONTROL related aviation document
EUROCONTROL, EASA, ICAO, EU and other documentation in force for Air Navigation Service Providers
Other documents that MATS may introduce from time to time to meet its Business and /or Operational and Regulatory requirements
*Note: Some of the information listed above is exempt from disclosure under the Freedom of Information Act (cap.496).
*Refer to the following sites:
Requesting Information
A request for document/ information electronic form must be completed. This can be downloaded from
https://secure2.gov.mt/FOI/downloads?l=43B1FE761FE51D49B79B53A17BBED958E92687B53C6D6161
https://secure2.gov.mt/foi/news-details?l=43B1FE761FE51D49B79B53A17BBED958E92687B53C6D6161&i=388FF22C25DD350F9B8967FF70AFEB42CF38FBBD5D4B6161
Completed requests for information or documents are to be sent by email on  foi.mats@maltats.com or in writing to:
MATS FOI Officer
Malta Air Traffic Services Ltd.
Gate 4, Malta International Airport,
Triq tal-Isqof, L-Imqabba MQB 9057
Contact numbers
MATS FOI Officer: 2235 5429
MATS FOI Alternates: 2235 5440, 22355307